In September 2022, Futuresource Consulting released the latest "GLOBAL LED DISPLAY MARKET REPORT". According to the report, Leyard has been the No. 1 in global LED display products market share, No. 1 in small pitch products market share and No. 1 in indoor LED products market share for six years, achieving six consecutive championships! In addition, the market share of Leyard's fixed installation LED products won the first place in the world again.
The global LED display industry is emerging from the haze of the COVID-19 pandemic and started to fully recovery in 2021. Futuresource report shows that the total global LED display market reached US $7.6 billion in 2021, representing a 19% year-on-year growth from 2020. It is estimated that the global LED market will reach $9.4 billion in 2022, or a 22% year-on-year growth. Futuresource forecasts that the market will reach $19.5 billion by 2026, growing at a compound annual growth rate of 21% between 2021 and 2026.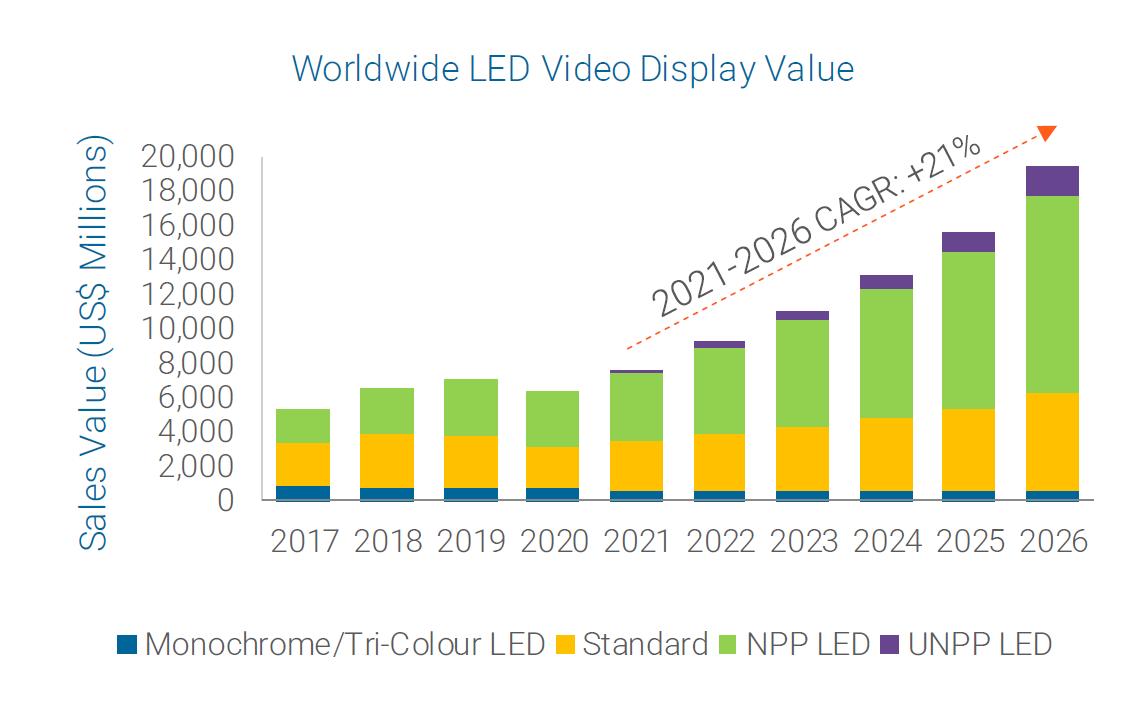 From the independent research and development of the first LED full-color display product in China in 1998, to the original and named LED small-pitch technology in 2010; from the first to promote the mass production of Micro LED technology in 2020, to the global release of "Leyard Black Diamond" in 2022 Next-Generation Micro LED Display Technology……
Deeply engaged in the display industry for 27 years, Leyard has promoted the rapid and high-quality development of the global LED display industry with three technological innovations, and its original LED small-pitch and Micro LED ultra-high definition display products have taken the world by storm.
Innovation is the inexhaustible power of Leyard's development. With the major breakthroughs in core technologies such as giant transfer, driver IC and ASIC control chip, Leyard has led the industry to break through the foreign technology blockade, solve the "neck" problem and realize the independent development and production of the whole industry chain.
With the wide application of big data, 5G, AI, Internet and other information technology, especially the accelerated development of digital economy and smart city, the whole intelligent display industry has ushered in a high-speed development opportunity.
As a global leader in visual effect technology, Leyard's innovation extends from technology and products to broader application creation; from developing 5G+8K ultra-high-definition display to building a meta-universe ecological closure, Leyard continues to promote the industrialization of cutting-edge technologies, injecting new momentum into the era of "Everything in one screen".
As a responsible national enterprise, Leyard has been always committed to technological innovation, leading the development of the industry with forward-looking technology. In the future, Leyard will continue to adhere to the brand concept of "let the world see", perform more wonderful business legend, and let "chinese screen" shine on the world stage.
---
Post time: Oct-25-2022